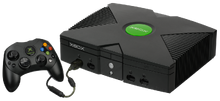 The Xbox [1] is a home video game console and the first installment in the Xboxseries of consoles manufactured by Microsoft. It was released on November 15, 2001 in North America, followed by Australia, Europe and Japan in 2002.[6] It was Microsoft's first foray into the gaming console market. It is a sixth generation console, and competed with Sony's PlayStation 2 and Nintendo'sGameCube. It was also the first console produced by an American company since the Atari Jaguar ceased production in 1996.
Announced in 2000, the Xbox was graphically powerful compared to its rivals, featuring a 733 MHz Intel Pentium III processor, a processor that could be found on a standard PC. It was also noted for its PC-like size and weight, and was the first console to feature a built-in hard disk.[7][8] In November 2002, Microsoft launched Xbox Live, a fee-based online gaming service that enabled subscribers to download new content and connect with other players through abroadband connection.[9] Unlike other online services from Sega and Sony, Xbox Live had support in the original console design through an integratedEthernet port. The service gave Microsoft an early foothold in online gaming and would help the Xbox become a relevant competitor to other sixth-generation consoles. The popularity of blockbuster titles such as Halo 2contributed to the popularity of online console gaming, and in particular first-person shooters.[10] Despite this and being in second position, ahead of Nintendo's GameCube and Sega's Dreamcast, sales of the Xbox were always well behind Sony's PlayStation 2.[11][12]
Xbox's successor, the Xbox 360, was launched in November 2005. The Xbox was soon discontinued beginning with Microsoft's worst-performing market, Japan, in 2005. Other countries would follow suit in 2006.[13] The last Xbox game in Europe was Xiaolin Showdown released in June 2007, and the last game in North America was Madden NFL 09 released in August 2008. Support for out-of-warranty Xbox consoles was discontinued on March 2, 2009. Support for Xbox Live on the console ended on April 15, 2010.
List of XBOX Games
[
]