The Sega Saturn (セガサターン), is a video game console manufactured by Sega and was the successor to the Sega Mega Drive. Initially released in 1994, the Saturn was touted as a "32-bit" compact disc-based system, and was a key player in what is now widely known as the fifth generation of video game consoles. A shaky launch to exclusive retailers featuring only two games and a $399 launch price greatly affected sales, despite a three-month lead to Sony's PlayStation in North America. The Saturn was first released on November 22, 1994 in Japan, "Saturnday", May 11, 1995 in North America, and July 8, 1995 in Europe. It was replaced by the Sega Dreamcast in late 1998.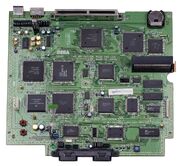 There is no hardware difference between the various versions. Just the BIOS version and the casing. For information regarding the various motherboard revisions, see Sega Saturn Hardware.
Processors
Two Hitachi SuperH2 7604 32-Bit RISC processors at 28.6MHz (50-MIPS)
SH1 32-bit RISC processor (controlling the CD-ROM)
Two VDP 1 32-Bit Video Display Processors at 6.71 - 7.15MHz (each)
VDP2 32-bit background and scroll plane video display processor
Custom Saturn Control Unit (SCU) with DSP for geometry processing and DMA controller
Motorola 68EC000 sound processor
Yamaha FH1 DSP sound processor, "Saturn Custom Sound Processor" (SCSP)
Hitachi 4-bit MCU, "System Manager & Peripheral Control" (SMPC)
Memory
1MB (8 Megabits) SDRAM
1MB (8 Megabits) DRAM
512K (4 Megabits) VDP1 video RAM
256Kx2 (2x2 Megabits) VDP1 framebuffer RAM
512K (4 Megabits) VDP2 video RAM
4K VDP2 on-chip color RAM
512KB (4 Megabits) audio RAM
512KB (4 Megabits) CD-ROM cache
32KB nonvolatile RAM (battery backup)
512KB (4 Megabits) BIOS ROM
Audio
SCSP Digital Signal Processor (DSP) @ 22.6MHz
Motorola 68EC000 sound processor @ 11.3MHz
32 PCM (Pulse Code Modulation) Channels
8 FM (Frequency Modulation) Channels
44.1 KHz Sampling Rate
Power
Community content is available under
CC-BY-SA
unless otherwise noted.