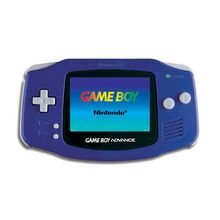 The Game Boy Advance [1] is the 32-bit handheld console successor to the Game Boy Color. It was developed, manufactured and marketed by Nintendo, and released on March 21, 2001 in Japan; on June 11, 2001 in North America and on June 22, 2001 in Europe and Australia. 
ChuChu Rocket!
Jet Set Radio
Shaman King: Master of Spirits
Shaman King: Master of Spirits 2
The Legend of Spyro: A New Beginning
The Legend of Spyro: The Eternal Night
The Adventures of Jimmy Neutron Boy Genius: Attack of the Twonkies
The Adventures of Jimmy Neutron Boy Genius: Jet Fusion
The Wild Thornberrys Movie
The Wild Thornberrys Chimp Chase
The Lion King 1½
Barbie: Groovy Games
Barbie Secret Agent GBA
Barbie Horse Adventures: Blue Ribbon Race
The Barbie Diaries: High School Mystery
Doom II: Hell on Earth
Sword of Mana
Army Men: Operation Green
Army Men: Turf Wars
Army Men Advance
Gunstar Super Heroes
Lady Sia
Rayman Advance
Sabrina the Teenage - Witch Potion Commotion
List of NES Classics Games for GBA
[
edit
|
edit source
]
List of GBA Double Superpack Games
[
edit
|
edit source
]
The GBA was re-modelled twice, into two different new consoles:
Game Boy Advance SP. It was released in early 2003. It brought new features, such as a lit screen and rechargeable batteries. Two models were released, the first one being front-lit (AGS-001) and the second one backlit (AGS-101).
Game Boy Micro. Released in 2005, this Game Boy is not much larger than one of the cartridges it plays.
Community content is available under
CC-BY-SA
unless otherwise noted.