We're Getting Mutants in the MCU - The Loop
Play Sound

The Fairchild Channel F
Manufacturer
Fairchild Semiconductor
Generation
Second generation
Release date
November 1976 (US)
Media type
ROM cartridge
The Fairchild Channel F is a game console released by Fairchild Semiconductor in November 1976 and invented by Jerry Lawson. at the retail price of $169.95. It made its first public appearance in June of 1976 at the Summer Consumer Electronics Show in Chicago. However, the company only displayed a non-working empty shell, so the system did not attract much press attention. A few weeks later, the Channel F made a much bigger debut nationwide as part of a July 6, 1976 article in Businessweek called "The Smart Machine Revolution." It has the distinction of being the first programmable ROM cartridge–based video game console, and the first console to use a microprocessor. It was launched as the Video Entertainment System, or VES, but when Atari released their VCS the next year, Fairchild renamed its machine. By 1977, the Fairchild Channel F had sold 250,000 units and was second-place behind the VCS. hi
Technical specifications
[
]
CPU chip: Fairchild F8 operating at 1.79 MHz (PAL gen. 1: 2.00 MHz, PAL gen.2: 1.77 MHz)
RAM: 64 bytes, 2 kB VRAM (2×128×64 bits)
Resolution: 128 × 64 pixels, approximately 102 × 58 pixels visible depending on TV
Colors: eight colors (either black/white or four color max. per line)
Audio: 500 Hz, 1 kHz, and 1.5 kHz tones (can be modulated quickly to produce different tones)
Input: two custom game controllers, hardwired to the console (original release) or removable (Channel F System II)
Output: RF modulated composite video signal, cord hardwired to console
Channel F System II
[
]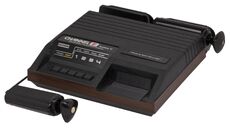 To fight Atari effectively, Fairchild began a redesign of the console, which would later become known as the Channel F System II.  When the game market slumped in the late 1970s, they decided to give up on the project, and sold it to Zircon International, who released it in 1979.
The major changes were in design, with the controllers removable from the base unit instead of being wired directly into it, the storage compartment was moved to the rear of the unit, and the sound was now mixed into the TV signal so the unit no longer needed a speaker. This version also featured a simpler and more modern-looking case design.
Various information
[
]
The console also featured a "Hold" button, which would stop the action on screen.  This was a precursor to the "Pause" function.
Fewer than 30 cartridges were ever formally released.
The original Channel F had a speaker built into the console, though it's of poor quality.  The later version instead used television audio.  The Atari 2600 had better audio overall.
The controllers suffer from cheap copper wiring which can break easily and is difficult to replace.
Graphically the console was weaker than the Atari 2600, and it's visible.
WebLinks
[
]